FTDI USB VCP Driver
Windows Operating Systems
Virtual COM port (VCP) drivers cause the USB device to appear as an additional COM port available to the PC. Application software can access the USB device in the same way as it would access a standard COM port.
Starting with Windows 7 and newer operating systems. Once the cable is plugged into the PC, the FTDI USB VCP Driver should automatically download and install if your PC is connected to the Internet. You can check Windows Device Manager under Ports to see if the driver is installed (Please see image below).
Manual Driver Installation
Windows 7, Windows 8/8.1, Windows 10, Windows 11, Windows Server 2008 R2 and Windows server 2012 R2 download and install this driver: https://ftdichip.com/wp-content/uploads/2021/08/CDM212364_Setup.zip (It works for both 32bit and 64bit Windows operating systems)
Old Windows operating systems including: Windows XP, Vista, Server 2003, Server 2008. Download the VCP driver from the FTDI website near the bottom of the page under "No Longer Supported": http://www.ftdichip.com/Drivers/VCP.htm
IMPORTANT! - Once the driver is installed you will need to match the COM port assignment the driver creates to that in your application software. In Windows this is found in Device Manager (Plese see image below). Some application software may not work on COM port assignments above # 9. If you experience issues try changing the COM port to a lower number between 1 and 9.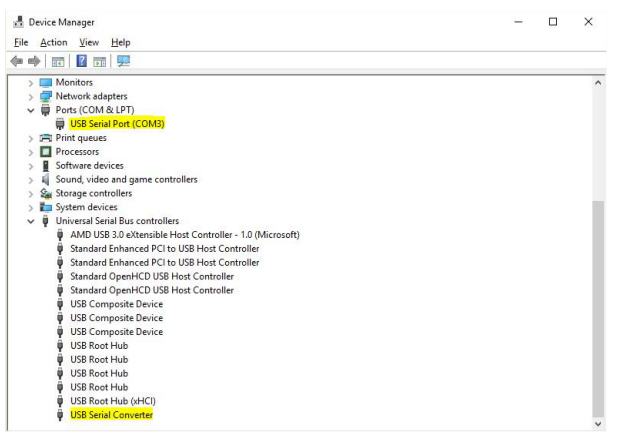 Linux and Mac OSX
Complete Driver Installation Guides for all operating systems: http://www.ftdichip.com/Support/Documents/InstallGuides.htm
To download FTDI VCP Drivers for all operating systems: http://www.ftdichip.com/Drivers/VCP.htm

Windows Operating System Troubleshooting
Most issues with the USB to Serial converter adapters/cables are driver installation related. The most common issue with Windows use of the adapters/cables is not matching the COM Port assignment the USB driver creates with that in the software that you are using.
1. USB to Serial cables are not compatible with DOS based software.
2. USB to Serial cables cannot be used for video applications. The cables are for data communication between devices.
3. RT Systems Radio Programming Software is not compatible with any of our Two-Way Radio Programming Cables. If you want to use their software you have to use their cables.
4. Make sure you carefully read the driver installation instructions above.
5. Confirm that the software that you are using is compatible with the device that you are trying to connect to. Also, check and see if there a mode or sequence that the device needs to be put into before attempting to communicate.
6. Through the process of elimination you can pinpoint most issues by checking the following:
1. Check driver installation and confirmed configuration settings.
If necessary, you can use this utility to remove all FTDI Drivers from your PC and then reinstall the current release driver: http://www.ftdichip.com/Support/Utilities/CDM_Uninst_GUI_Readme.html
2. Check software version being used with the device.
3. Check for special device mode or sequence commands.
4. Check that computer is compatible with the device. Some old Windows devices/software only work with 32bit software or require using an older Windows compatible mode.
5. Check with a different computer. Some strict security polices prohibit attaching USB devices. In addition, Windows based PC's can develop issues over time with installing/uninstalling software.
6. Check that the device is not the problem by testing with another adapter/cable.
7. Check that the adapter/cable is not the problem by testing with another device.
8. In order for some older software to work with 64bit systems. It needs to be "Run as Administrator" in order for it to work correctly. You can fix this requirement by following the tutorial here: https://www.cnet.com/how-to/always-run-a-program-in-administrator-mode-in-windows-10/
9. The LED lights will only flash during TX/RX between the device. They will not stay illuminated at any other time.
10. If none of the above work. Try rebooting the computer as sometimes USB devices become locked and require a reboot to reset.